X Series Applications
We started our business on first detention pond software in year 2016. Through the years, we were started to introduce several infrastructure applications which comprised of main core components in civil engineering software. Such as Drainage networks analysis and design, Sewerage networks analysis and design, earthworks design and water reticulation. These applications are important in consultant design office. One of the special about these applications is they are not a "static" applications because along the time, there will be many new rules or guideline being introduced into market mainly by government. Therefore, these applications need to always update to meet the latest requirements. Else they will be "DEAD". However, besides the important of rules and regulations incorporated into applications. There will be another factor of user friendliness of operating the software. Are the applications can be easily learning and operate? Are them steep learning curve? However, one of most important factor on applications is the human behavior on adoption of new technology in their company. As we understand human is reluctant to change, they like to go with similar life style even though the new technology will help them tremendously in their daily works. For example, they still willing to perform manual design instead to it can be done by computer.
Since we always on the edge of technology, we always approached by new ideal, new technology, new methodology. Until we cannot totally catch up with the changes in Information technology. For instance, now IT are talking on machine learning. Is our engineering being ready for it? No matter how, we are here to try bridging this gap with our engineering world. As the time passed, we noted with concern that the technology that we have been used and maintain for years has been came to a bottom neck where the growth of new technology in our application will no longer adequate. As result, we have decided to re-write our applications. It just like Microsoft Windows on new Windows 7 up to Windows 10 and dropped the Windows XP technology. The similarity is happened to us.
Our new X Series applications have been totally re-invent from bottom to up. The new X Series will have better stability in application from saving file, CAD interface, our Zeon 3D technology, new reporting EXCEL alike built in application. Enhancement on new guideline. Like MSMA 2nd edition, SUSToM for Sarawak, SPAN requirement, EPA SWMM compatibility, EPANET compatibility. Better user interface on application. Even we are supporting new AutoCAD drawing 2018 dwg format. We also try to uniform similarity in all our applications into a similar format where enable user to has shorter learning curve on learning any of our new application. With the years in software industrial, we had gained a number of experience in software where now we are integrating all experience that we have acquired into these X Series. No doubt, we know that we are unable to satisfy every client that we have. Somehow, we will try our best to serve them better. One of example, we will ensure every software will come with better write up such as tutorial on getting started. We know that this is crucial on any new customer to get to know how on operating software. We must have admitted that software just a tool to help engineers to do works. The data entries are important in software operation. Any rubbish in will come with rubbish out. We also want to ensure our clients able to understand the concept of engineering theories before they can use our software. This is where from this year 2018, we are starting to conduct some technical talk or training to any client who interested to understand the concept and theory behind our product ranges. For instance, one of our good respond training will be "MSMA on concept, theories and practices". You can read more at this link http://www.civilstructural.com.my/WaterResourcesCourses.html. All these courses come by demand only. We will not purposely conduct. We are here to help civil engineers to have a better life in consulting engineering world.
Our X Series coming with 4 modules. i.e. xDrain-Drainage networks analysis and design, xSewer-Sewerage networks analysis and design, xWater-Water reticulation . No doubt we have one module that not fall in this X Seire, that is ZeonEarth-3D Earthworks design. It is our signature product. The specialty of this ZeonEarth, it is able to get a fast count of cut and fill in short of time. Also it is fully 3D computation.
X Series Products
xDrain - Drainage Networks Analysis and Design
xWater - Water Reticulation Analysis and Design
xSewer - Sewerage Networks Analysis and Design
xQS - Bill of Quantity application
---
xDrain- Drainage networks analysis and design:
The unique of xDrain is it is able to generate a compatible output that can able to run in a world popular open source Stormwater Management Model software named EPA SWMM. We have integrated the CAD environment to ease on user to transfer the content in CAD into SWMM model. It can save tremendous time on CAD operation. Furthermore, we have integrated certain guideline such as our Urban Stormwater Management Manual for Malaysia 2nd Edition and Singapore Stormwater guideline PUB. It is the best solution for SWMM on those people who want to have SWMM function with our guideline plus CAD interface.
Signature Feature: Auto Catchment Preview
xWater- Water Reticulation Analysis and Design
The special of xWater is it is able to generate a compatible output that can able to run in another world popular open source software named EPANET. It is the same as xDrain, we have integrated the CAD environment to ease on user to transfer the content in CAD into EPANET model. It can save huge time on CAD operation. Most important we also incorporated water supply guideline SPAN for Malaysia into the xWater. Furthermore, we even compile each states of water authorities in Malaysia on their individual guideline into xWater. It is a recommended solution for those people who want to have EPANET function that run together with our integrated guideline. Also supporting CAD interface such as AutoCAD 2018 dwg format.
xSewer- Sewerage networks analysis and design
It is never links up with any popular open source software but it will similarity feature in either xDrain or xWater. Only it is for sewerage system. It is integrated with SPAN guideline and with our Malaysia Standard MS1228. With the understanding of operation knowledge in xDrain and xWater, user will not difficult to catch up this xSewer application. Overall, it has the similarity UI with xDrain and xWater.
---
xQS- Bill of Quantities design
It is up with all CSSS application where it can extract the content of data into bill of quantities. For those who want to have quick setup of bill of quantities. This is the best place to do it.
With help of standard BQ. Every saved projects data from xDrain, xSewer and xWater will be turned into BQ by just a few clicks of button. It is a helpfull tools on contract preparation on time saving on takeoff quantities such as excavation of earth in range of depth. The breakdown of each range of depth can be shown.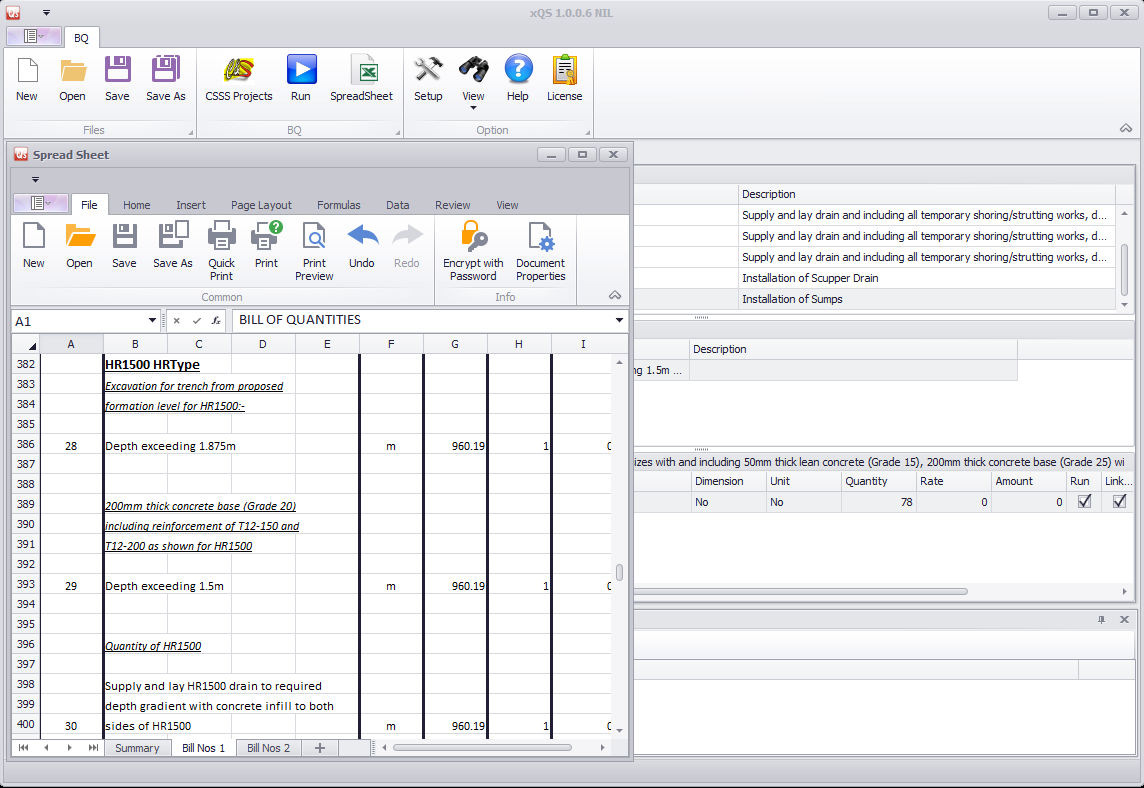 Enquiries. Please email to sales@civilstructural.com.my ask for X Series

General Features(except xQS)
Fully supports DWG format with 2018 CAD format.
Comprehensive report.
Own "EXCEL" output mode.
3D view
Cross Sections
Uniform user interface for user friendly (except ZeonStorm)